Find the perfect villa rental for your holidays in Marrakech
Holiday B&B villa rental in Marrakech with private garden and swimming pool, Maid Service and hotel service, Club house with Restaurant, Large public swimming pool, sun baths,  SPA, Massage rooms and Morrocan Hammams, Tennis court and FREE  shuttle to downtown Marrakech.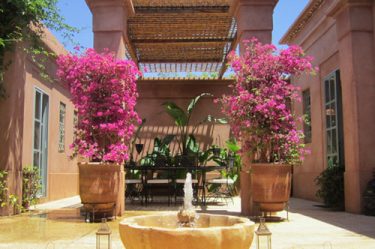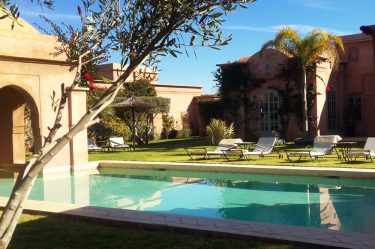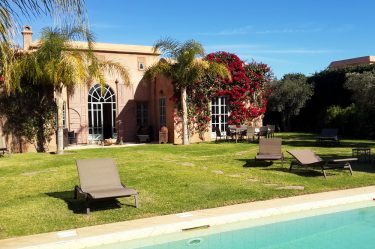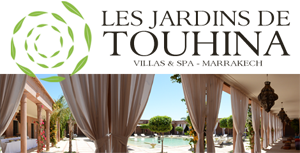 A stunning collection of luxurious riad-style villas for rent in Marrakech set on nine hectares of Andalusian-inspired gardens on the outskirts of Marrakech. Set in the tranquil, olive tree-dotted countryside just outside the city, near by the Royal Marrakech golf club, the Amelkis golf course and with spectacular views of the Atlas Mountains.
"....Luxious holidays Villas for Rent with Private Swimming Pool & private Garden, Maid and hotel services on A 9ha Private Resort in Marrakech ...."
"Les Jardins de Touhina" resort, offers the ideal setting for a relaxing holiday, but with the added benefit of being within easy reach with the free downtown Marrakech shuttle of the exotic sights and sounds of Marrakech with its landmarks, souks and restaurants.
The design of each villa - Riad is complemented by many authentic Moroccan architectural elements and traditional finishes such as cherrafa decoration from Fez, zellige tiles and tadelakt, which giving a unique sense of place.
All villas are also elegantly and fully furnished, equiped with air conditioning & housekeeping service and features both ample room for entertaining as well as quiet corners for relaxation.
Private villa | Private garden and swimming pool | Hotel services | Breakfasts included |  Housekeeping & Cleaning Service | Restaurant & cooking service
SPA Hammam & Massages rooms | Tennis court | 2.000 m² Club-House with swimming pool & sun baths | Downtown Marrakech Shuttles